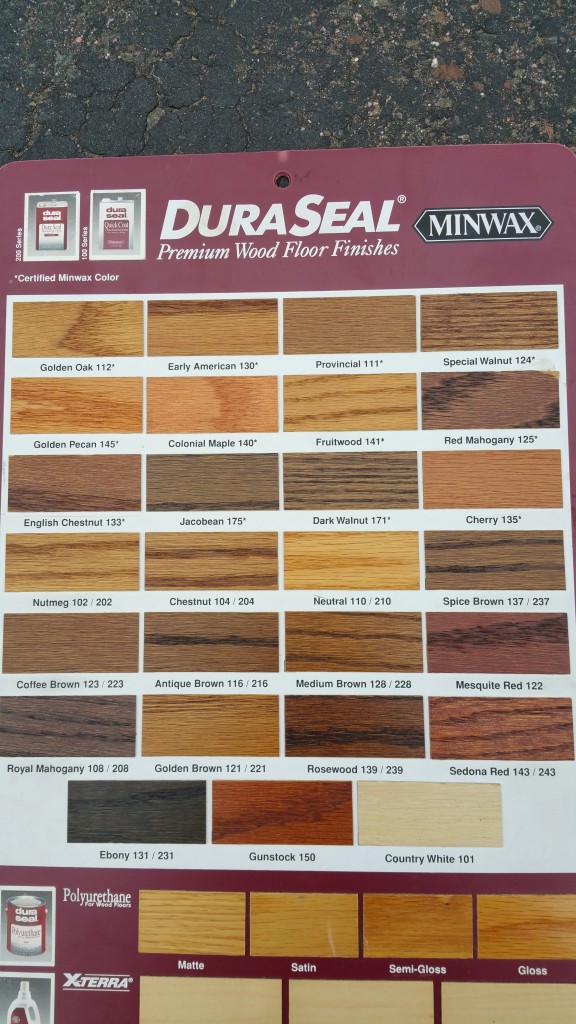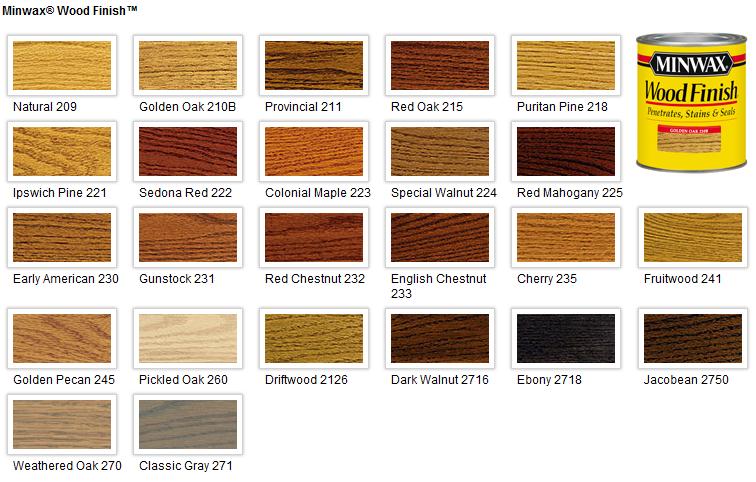 HELPFUL TIPS FROM PATRICK DAIGLE FLOORING: ROUTINE MAINTENANCE
Please keep in mind that floor finish will take 60 to 90 days to fully cure
Use a damp cloth to blot up spills as soon as they happen. Never allow liquids to stand on your floor. Safe cleaning products are Polycare or Bona.
For tough spots, such as oil, paint, markers, lipstick, ink, or tar, apply mineral spirits on a clean white cloth, then wipe the area with a damp cloth to remove any remaining residue.
Sweep, dust, or vacuum the floor regularly with a recommended hard floor attachment (not a beater bar) to prevent accumulation of dirt and grit that can scratch or dull the floor finish.
Periodically clean the floor with cleaning products made specifically for urethane finishes.
Do not wash or wet mop the floor with soap, water, oil-soap detergent, or any other liquid cleaning material. This could cause swelling, warping, delamination, joint-line separation and void the warranty.
Do not use steel wool, abrasive cleaners, or strong ammoniated or chlorinated type cleaners.
Do not use any type of buffing or polishing machine, these can generate heat or hot spots.
For spots such as candle wax or chewing gum, harden the spot with ice and then gently scrape with a plastic scraper, such as a credit card. Be careful not to scratch the flooring surface. Wipe clean with a damp cloth.
A more frequent dust-mopping or vacuuming schedule may be required in very sandy areas such as a beach home.
Protection
Entry mats will help collect the dirt, sand, grit, and other substances such as oil, asphalt, or driveway sealer that might otherwise be tracked onto your floor.
Do not use rubber or foam backed plastic mats as they may discolor the flooring finish. To prevent slippage, use an approved vinyl rug underlayment approved for urethane finishes.
Use floor protectors and wide-load bearing leg bases/ rollers to minimize indentations and scratches from heavy objects. As a rule, the heavier the object, the wider the floor protector.
Maintain a normal indoor relative humidity level between 45%-55% throughout the year to minimize the natural expansion and contraction of the wood. Failure to do so will void warranty
Avoid excessive exposure to water during periods of inclement weather.
Do not walk on your floor with stiletto heels, shoes with sports cleats or exposed metal parts.
Use protective mats when moving refrigerators and pianos across the floors so no wheel marks are left behind.
Keep your pets nails trimmed to prevent them from scratching your floor.
UV sunlight will enhance the tone of different species of hardwood to varying degrees. Periodically rearranging your area rugs and furniture will allow the floor to antique or age evenly.
Use a dolly when moving heavy furniture or appliances; but first, put down a piece of quarter inch plywood or Masonite to protect the floor. Never try to slide or roll heavy objects across the floor.
A protective mat should be used for furniture or chairs with castors.
Use cleaning products safe for urethane finishes; never use oil soaps, wax, liquid or other household products to clean your floor.
Lumber Liquidators does not endorse the use of steam cleaning machines on hard wood products, use at your own risk.
Toys and tools can scratch the finishes, scratches and dents are jobsite related, not warrantable.
Painters tape can remove the finish from the floors.
How to Prepare for the Sanding and Refinishing of Your Home
Clear Out the Work Area
Move all furniture and plants out of the work area in advance.
Remove pictures and wall hangings from walls of the work area and near the work area.
Remove books and other objects off of shelves, mantels, and countertops in the work area and near the work area.
Remove clothes, shoes, and other items from closets in the work area.
For kitchen refinishing jobs, remove refrigerator and stove. Some stoves that do not have extended legs which can be seen under may be left and worked around.
For bath or powder room refinishing jobs, remove toilet and pedestal sinks.
For laundry room refinishing jobs, remove washer and dryer.
?Remove Existing Flooring
Unless otherwise quoted, removal of existing floor coverings is not included.
When removing carpeting, be sure to remove all tackstrips, padding, nails, and staples.
Do not use a screw driver to remove tack strips as this will gouge your floor; use a pry bar or wonder bar instead.
When removing linoleum, be sure to remove paper backing that may be adhered to flooring.
Remove and reinstall all baseboard trim.
Protect your Home
We use a Dustless dust containment system and they are not 100% dustless. You still should expect to have some dust. We do our best to remove dust from the area. Expensive draperies should be removed or taped off.
Unless otherwise stated in proposal, owner is to plastic any areas or objects that he or she wishes to keep from dust. Please note that even a low adhesive tape can sometimes peel off paint and other finishes that are not well adhered. Painters blue tape is not always fail safe either. For questionable surfaces, you should use extra low adhesive white tape. We cannot be responsible for paint, wallpaper, or other finishes that peel off from tape removal.
Kitchen pantries should be cleared or taped off. Food items that are not well sealed can absorb vapors from urethane coatings, leaving an undesirable aftertaste.
Protect Your Pets
Pets should be kept out of the work area at all times. If the job requires, this may be for several days. Cats and dogs like to enter the work area once wet adhesives or coatings have been spread. This is problematic not just for the animal and its owner, but also for your floor refinisher. Cleaning these coatings off of the animal?s paws and skin requires unpleasant solvents that can cause the animal discomfort for days.
If you have a protective dog, please keep it tied up or in a kennel so that our employees are not bitten. Even if your dog or cat is friendly, please tie it up if it could escape – we are constantly coming and going through doors and yard gates with equipment.
Birds and fish are sensitive to even small changes in their air. Bird cages and fish tanks should be moved to a room that is well ventilated and can be closed off from any fumes.
Follow-up after Completed Project
Make arrangements to stay off the floors while finish coats are drying. Most jobs require 3 coats. This process may take 2-3 days to complete your job. If you are staining a floor a darker color, it will take an extra day for the stain to dry. Some stain colors may require longer than 24 hours to dry. It is always a good idea to stay off the floors for a couple of days after the final coat to let it harden before walking on it. Oil polyurethanes are usually dry with-in 24 hours and can be walked on the very next day after being applied; however, it takes about 4 weeks for them to fully cure. During these 4 weeks it is advisable to use extra caution sliding chairs or other objects on the floors.
Be prepared to re-light any pilot lights that we see fit to turn off in order to eliminate fire hazard. Wait until the next day and make sure the house is ventilated before doing so.
Be prepared to do minor paint touchups on trim and walls.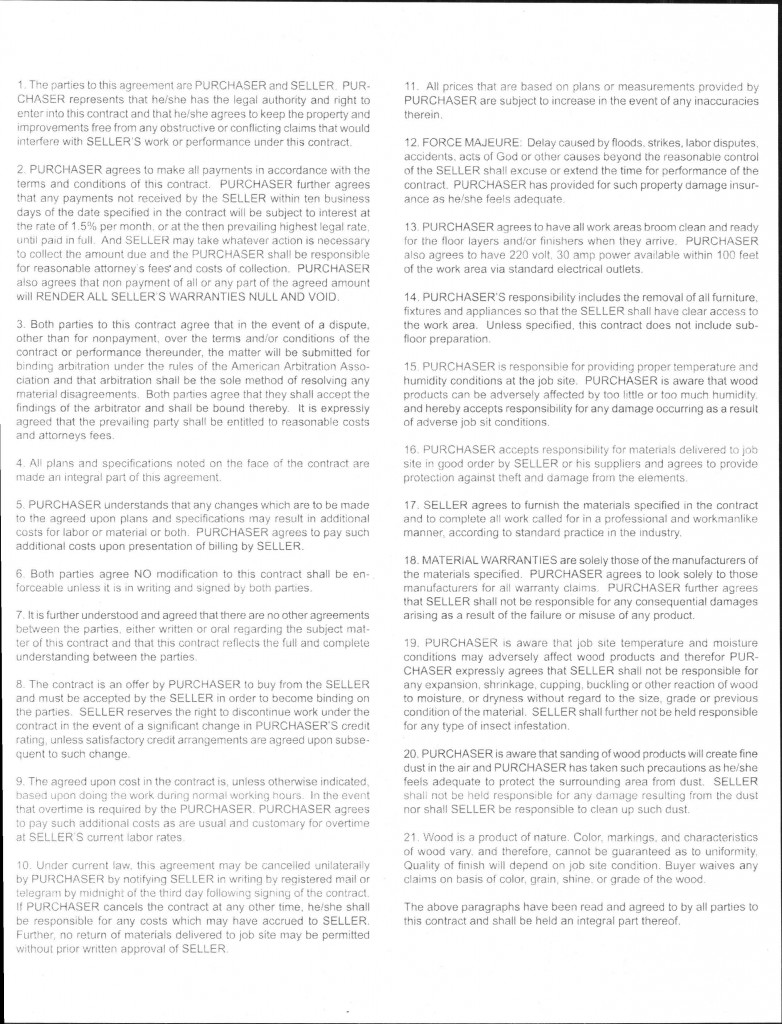 ---